Cystex® is the trusted urinary health brand that has helped millions of women manage the pain and discomfort of urinary tract infections (UTIs). UTIs are a pain…literally and figuratively. While no one is immune to UTIs, women are more susceptible to them than men, and unfortunately, likely to experience more than one in their lifetime.
At Cystex, we are here for you, with resources and information to get you through the pain and help you take steps to maintain your urinary health in the future.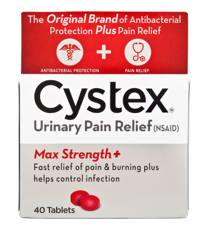 Cystex Urinary Pain Relief Tablets
The original OTC urinary pain reliever with a dual-action formula that not only eases the pain caused by a UTI, but also contains an antibacterial to help keep the infection from getting worse while you wait for your doctor's appointment.
Learn More
Cystex Urinary Health Maintenance
Help maintain your urinary health by adding Cystex Urinary Health Maintenance to your daily routine. One tablespoon is loaded with multiple powerhouse ingredients that can benefit your urinary health.*
Learn More

*These statements have not been evaluated by the Food and Drug Administration. These products are not intended to diagnose, treat, cure or prevent any disease.